Technologies evolve. So do the demands on your wireless network. While today's WiFi can achieve performance levels unimaginable a decade ago, there are limits. Where those limitations begin, private cellular networks excel.
In search of an ultra-reliable, effortlessly mobile wireless network that's equally suited to both indoor and outdoor environments? Have you considered a private cellular network but found the technology confusing or too costly? Velaspan's Managed Private Cellular (MPC) offering is a game changer.
---
What is Private Cellular – and why all the hype?
Today, you can deploy privately the same cellular technology used by commercial carriers – and support a multitude of business services within a defined geographical area. Such dedicated, private cellular networks can be deployed within your enterprise using freely available spectrum (such as CBRS) or leased from a third party.
As the hype around private cellular increases, many vendors are promising to provide "digital transformation" through architectures such as edge computing, hybrid cloud, Industry 4.0, etc. However, some of the most important and practical private cellular use cases can get lost in the hype, become neglected, or get missed entirely.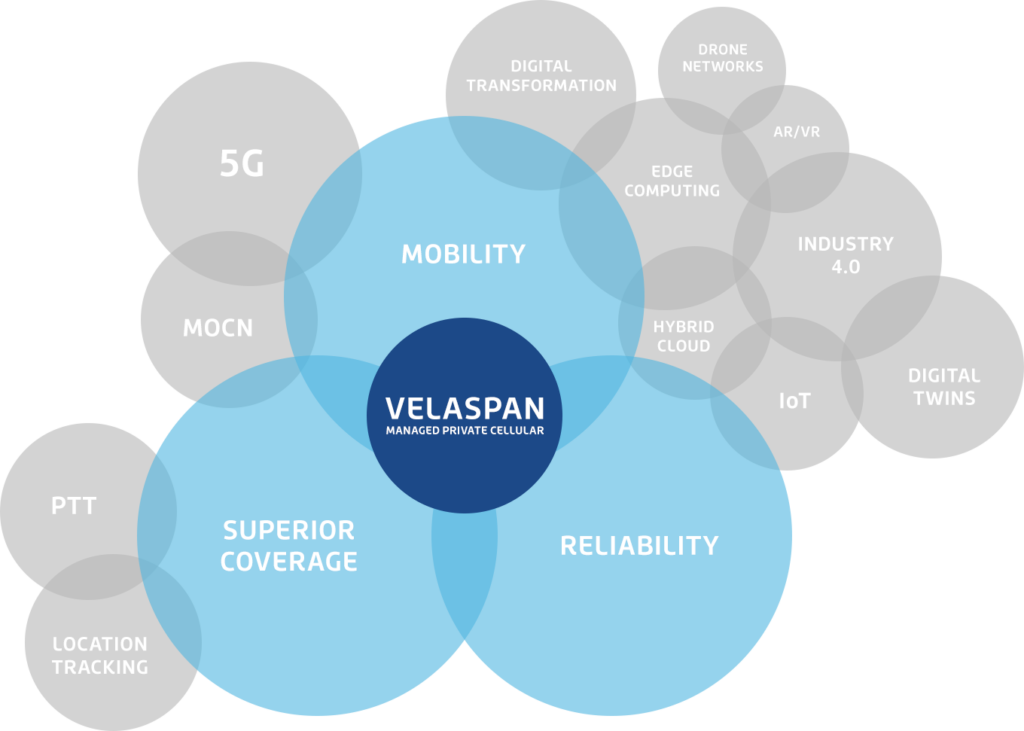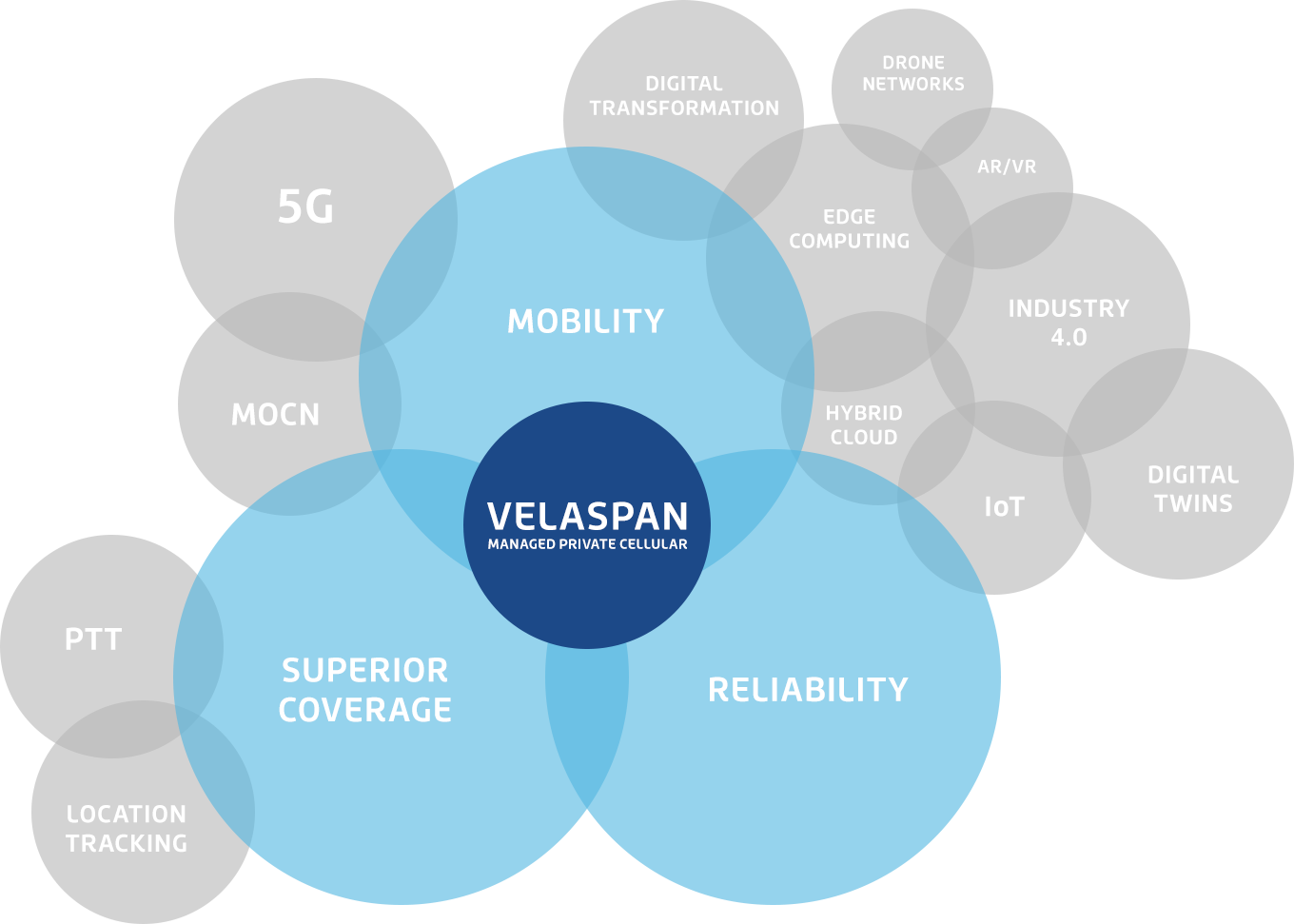 At Velaspan, our core focus is on practical uses of this technology – delivering solutions driven by mobility, coverage, and reliability – while preparing you for transformative architectures and use cases.
---
How does WiFi compare to Private Cellular?
Cellular
VS
WiFi
Robust, Orchestrated Roaming / Handover Controlled by System
Roaming
Roaming Controlled by Client Devices Rather than Network Infrastructure
Regulated Free Spectrum (Some Countries) via CBRS and OnGo Alliance
Spectrum
Substantial Spectrum Freely Available Virtually Worldwide 2.4GHz, 5GHz, 6GHz
SIM Based Authentication / Encryption with Secure Architectures Available
Security
Various Authentication / Encryption Methods (Limited by Legacy Devices)
~250Mbps (LTE) / ~1Gbps Network (5G) (Performance Commitment Possible)
Bandwidth
Theoretical Speed up to 9.6Gbps
Shared Bandwidth with QoS Options (Best Effort – Performance Varies)
Greater Transmit Power & Receive Sensitivity Allows for Larger Cells (Up to 15x WiFi Coverage)
Coverage
Limited Transmit Power Allows for Modest Coverage Cells
Growing Number of CBRS LTE Devices
Devices
Virtually Ubiquitous Device Compatibility
Excellent Fit both Indoors and Outdoors
Environment
Great Fit and Performance Indoors
Outdoor Use-Cases Often Impractical
WiFi has undoubtedly proven itself as the leading wireless standard in the enterprise network. Yet, as communication requirements evolve, we see a growing number of business-critical use cases emerging that rely on pervasive coverage and seamless mobility for users or devices with a higher degree of reliability. Private cellular meets these emerging requirements – deployed as a WiFi alternative or as an overlay network operating alongside WiFi as a hybrid solution – to achieve the most seamless and frictionless user experience possible for critical applications and devices.
---
Our Approach
We are a one-stop network-as-a-service provider, addressing the complete private cellular network lifecycle.
Through this four-stage approach, we can help you leverage the inherent benefits of MPC through performance and reliability, to achieve business requirements today.
---
Our engineers configure and optimize radio and network settings including transmit power, carrier aggregation, QoS, application-specific performance targets, network slicing, and security to meet your specific needs.
Robust, orchestrated roaming/handover of user devices
High-performance mobility across indoor and outdoor environments
Secure architectures, using SIM cards that support encrypted and fully managed network traffic
Ensured data rates, tested/validated against KPIs/QoS​
Superior signal coverage, up to 15 times WiFi performance
We architect and design our solutions using a vendor-neutral approach to best meet the Client's business needs.
Rapid, turn-key deployment minimizing interruption to your business
Easily scalable and adaptable to new requirements, layouts, equipment, additional service areas, etc.
Flexible, budget-friendly, footprint-based pricing model
Eliminates capital expenditures with a network-as-a-service model; leverage the benefits of this rapidly evolving technology without the long-term risk
Utilize freely available regulated shared spectrum in the US and other countries
Growing availability of compatible devices
---
Ready for Your Industry
Managed Private Cellular is ready to meet today's challenging business requirements as a more capable alternative to WiFi, or alongside as an overlay network operating in harmony – especially when deployed in the following industries:
Warehousing / Dist.
Education
Manufacturing
Retail
Healthcare
Construction
Mining
Chemical, Gas, and Oil
Ports and Maritime
---
Ready to learn more?
For nearly 20 years, we have specialized in next-generation wireless technology. Our vendor-neutral approach and exceptional attention to detail has made us a trusted partner with companies of all sizes, including some of the largest global enterprises, in an increasingly technology-driven world.​
Reach out and find out how we can help you achieve your business-critical communication objectives.
Let's Discuss